Home
/
Masonry Ottawa
/ Chimney Repairs Ottawa
Chimney Repairs Ottawa
We provide a fast and affordable service for repairing chimneys in Ottawa. Free estimates.
Chimney Repair and Inspection Service Ottawa
Water causes more damage to the chimneys in your homes than fire in Ottawa. The roof and eave protect the masonry work and other materials your home uses. Your chimney stands stoically above the roofline of your house, weathering constant exposure to the environment.
A masonry chimney is constructed of various masonry and metal materials, including brick, mortar, concrete, concrete block, stone, flue tile, steel and cast iron. All masonry chimneys contain combinations of, or possibly all of, these materials, most of which are adversely affected by direct contact with water or water penetration.
Expert Paving and Masonry can repair damage to any part of your fireplace or chimney in Ottawa, whether you need repointing, broken or loose bricks, repair of a leaking crown, broken flue liner or other problems since water damage caused many of these problems.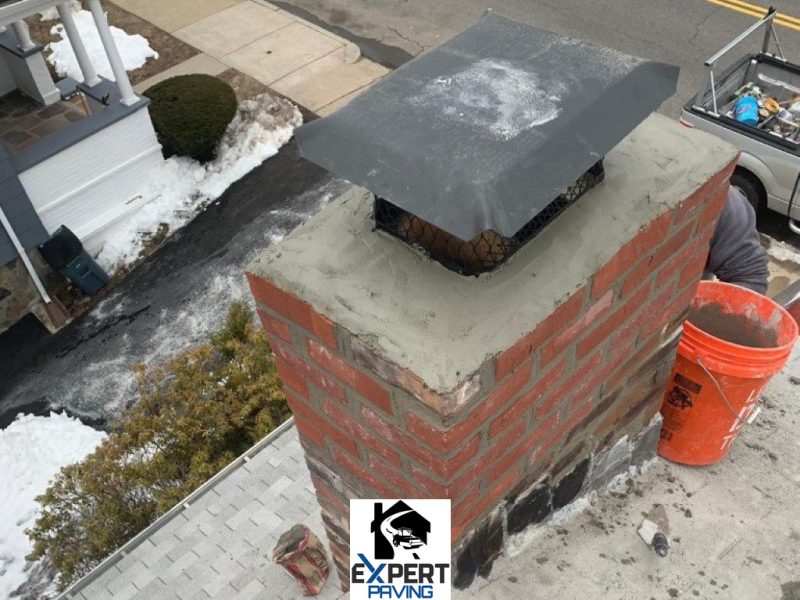 Water Penetration
All masonry chimney construction materials, except stone, will suffer accelerated deterioration due to prolonged contact with water. Masonry materials deteriorate quickly when exposed to the freeze/thaw process, in which moisture that has penetrated the materials periodically freezes and expands, causing undue stress.

Preventing Water Damage
We can fit chimney caps, also called rain covers, which are probably the most inexpensive preventive measure a homeowner in Ottawa can employ to prevent water penetration and damage to the chimney. Chimney caps have long been recognized as an important chimney safety and damage prevention method for many years in Ottawa.
Waterproof Your Chimney
Most masonry materials are porous and will absorb large amounts of water. Standard brick is like a sponge, absorbing water and wicking moisture to the chimney interior. Defective mortar joints or improper mortar or brick can significantly increase the tendency to absorb and convey water to the interior of the masonry chimney.
We provide various masonry services, including waterproofing in Ottawa and masonry wall building in Ottawa.
Call Expert Paving and Masonry on (613) 703-1805 for a free estimate on chimney repairs in Ottawa.
Schedule Your Free Chimney Repair Estimate Today in Ottawa
There is no reason to wait - get a free estimate at no cost to you.
SCHEDULE A FREE QUOTE
Expert Paving and Masonry

Customer Reviews
Just had our driveway completely redone John gave us a fair price, excellent and timely work. His crew very professional and polite . Thrilled with the results.
Christian Roberts
Very pleased with the work done by the crew at expert paving and masonry. We had a large project including 2 patios, 3 sets of stairs, 2 walkways, and a driveway. The workmanship is excellent and the customer service second to none.
Evan Clarke
John and his team were great to work with. Good communication and performed the work on time and in a professional manner. I am really happy with the new Belgian block and asphalt driveway they did for me. I would definitely recommend them to anyone.
Felicia Harvey
See More Reviews